PRODUCTS
You are now the location of > PRODUCTS > Deep groove ball bearings
Deep groove ball bearings BEARINGS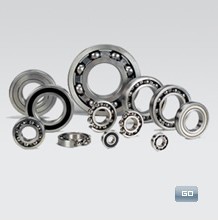 The deep groove ball bearings is of the most typical structure in rolling bearing and for extensive purposes.Basic deep groove ball bearing by an outer ring ,an inner ring ,a group of steel ball and a set of cage composition.Deep groove ball bearing structure simple, with other type is easy to achieve higher than the manufacturing accuracy,therefore easy to into a series of mass production, manufacturing cost is low, the use of very common. Deep groove ball bearing in addition to basic outside, Such bearing is in multiple varied structures including open and close ones,Such as: take dust cover deep groove ball bearing, with rubber seal of deep groove ball bearing, a locking groove deep groove ball bearing, have put the ball gap big load capacity of the deep groove ball bearing, double row deep groove ball bearing.

Thanks to the samall friction moment.It is most suitable for the working occasion of high-speed rotation,Low noise and low vibration.

These bearings type have single row and double rows two kinds, single row deep groove ball bearing type code for 6, double row deep groove ball bearing code is 4.

Single-Row Deep Groove Ball Bearings
Pressed Steel Cages
Single-row deep groove ball bearings are the most common type of rolling bearings. Their use is very widespread.

These bearings often have steel shields or rubber seals installed on one or both sides and are prelubricated with grease. Also, snap rings are sometimes used on the periphery. As to cages, pressed steel ones are the most common.

For big deep groove ball bearings, machined brass cages are used.
Machined cages are also used for high speed applications.

Extra Small Ball Bearings and Miniature Ball Bearings
Miniature and instrument ball bearings can be divided into two basic types, deep groove and angular contact.
Standard type
Flanged outer ring
Extended inner ring
Expanded type in which one ring has a radial thickness that is larger than normal compared with the bearing width.
Thin section type in which both rings are extra thin in the radial direction. They can also be classified as: open, shielded, or sealed.
Total 5 Record,1/1 Page,Page Show 20 Record 7 No.[1] Page 8