PRODUCTS
You are now the location of > PRODUCTS > Joint bearings
Joint bearings BEARINGS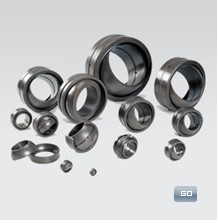 Joint bearing is a kind of special structure of the sliding bearing.Joint bearing is mainly composed by an inner of spherical and the outer within a sphere,it can carry a large load.According to the differeft types and structures.They can carry the radial load and axial load or the radially and axially combined load.it is generally applicable to low-speed swing movement,but also to tilt movement within a certain angle.

Joint Bearing feature:

Joint bearing can carry a large load.Because of the ring, with a spherical outside surface composite material, therefore, the bearing can produce self lubrication in the work.When supporting shaft and shaft shell hole not concentricity is larger, can still work normally.

Joint Bearing main application:

Joint bearing is widely used in engineering hydraulic oil cylinder, forging machine, engineering machinery, automation equipment, automobile shock absorber, water conservancy machine, etc.

Total 5 Record,1/1 Page,Page Show 20 Record 7 No.[1] Page 8