PRODUCTS
You are now the location of > PRODUCTS > Cylindrical roller bearings
Cylindrical roller bearings BEARINGS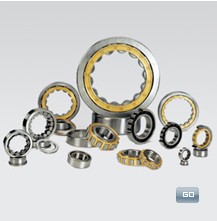 The cylindrical roller bearing is a detachable bearing facilitating assembly and disassembly.The cylindrical roller is in the linear contact with the bearing race and has a large loading capacity,capable of carrying large radial and punching loads and applicable to high-speed rotation.

There are different types designated as NU, NJ, NUP, N, NF (for single-row bearings), NNU, and NN (for double-row bearings depending on the design or absence of side ribs).

Cylindrical roller bearing features:

1. Roller and roller way for line contact or repair referrals contact, radial bearing capacity is big, is designed to withstand heavy loads and shock load.

2. Small friction coefficient, suitable for high speed, limit speed close to deep groove ball bearing.

3. N type and NU type can be axial movement, can adapt for thermal expansion or installation error caused by the shaft and housing relative position change, can make free end bearing use.

4. For shaft or seat hole processing the demand is higher, after installation bearing outer axis relative deviation to kept under strict control, so as to avoid the contact stress concentration.

5. The outer and inner rings of all types are separable and easy to install and remove.

Cylindrical roller bearing main application:

Large and medium-sized motor, engine vehicle, machine tool spindle, internal combustion engine, generator, gas turbine, reducer, rolling mill, vibrating screen and lifting the transport machinery, etc.


Total 18 Record,1/1 Page,Page Show 20 Record 7 No.[1] Page 8